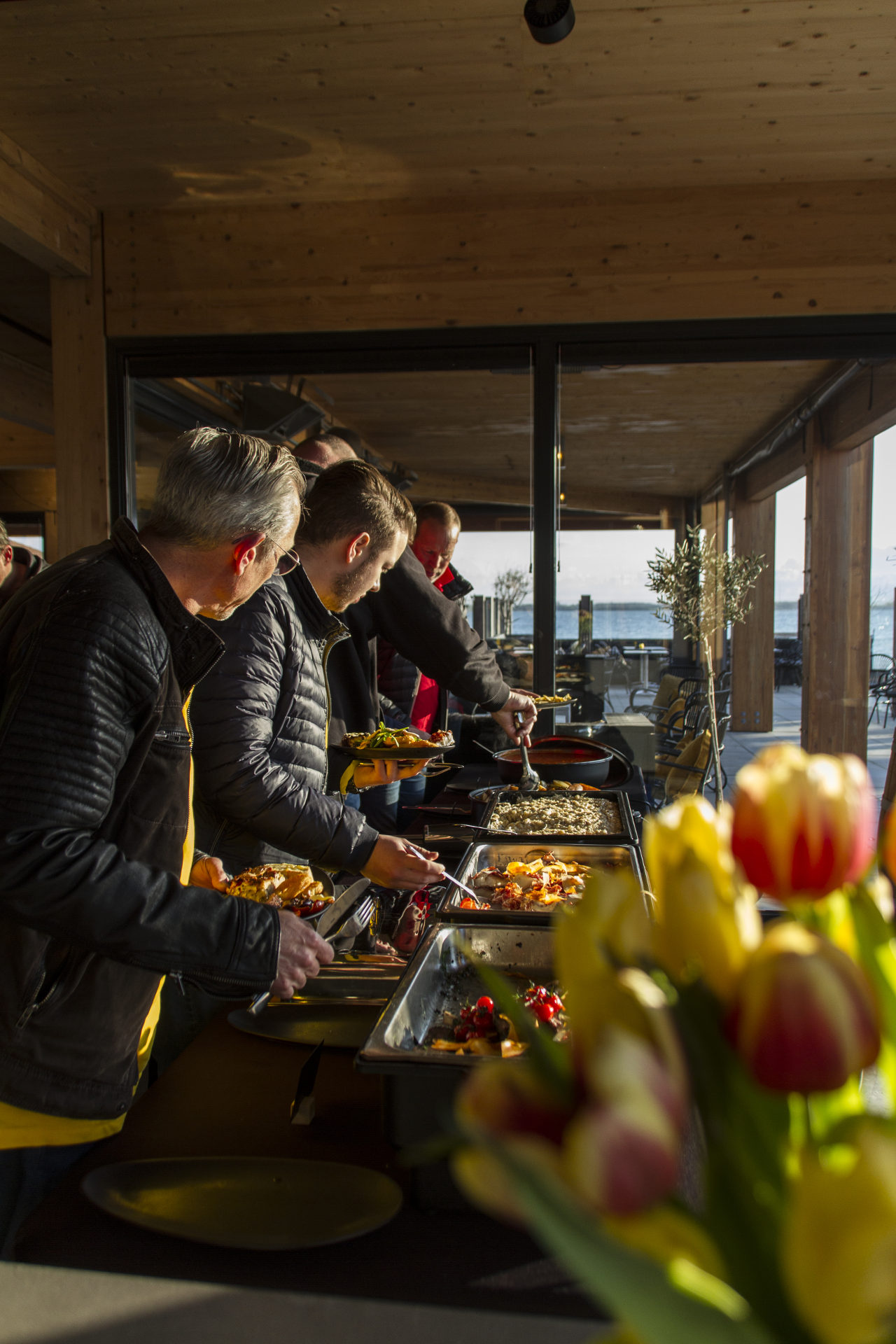 Zowel 's middags als 's avonds is het mogelijk om binnen of buiten bij restaurant EAT & SEE te genieten van een rijk gevuld buffet!
SURFERS BUFFET € 19,5 p.p.
huisgemaakte kipsaté met pindasaus | surfhamburger (100% rundvlees) | visspies | gemengde salade | coucous salade | diverse soorten brood met smeersels | frietjes met diverse sausjes
SUNDOWNER BUFFET € 29,5 p.p.
huisgemaakte kipsaté met pindasaus | tournedos medaillons met kruidenboter en pepersaus | spare ribs | gamba's in knoflook gemarineerd met verse peterselie | visspies | salade van rucola met kip, parmezaanse kaas snippers en pijnboompitten | zomerse salade brie met noten en vers fruit | couscous salade | maïskolf met zeezout en boter | honing- en/of watermeloen | verse ananas | boerenbrood en stokbrood met diverse smeersels | frietjes met diverse sausjes
KIDS BUFFET € 12,5 p.p.
Voor kinderen tot 12 jaar en alleen te bestellen in combinatie met een buffetarrangement.
hamburger | frikandel | kipsaté | komkommer | meloen | frietjes | stokbrood | kruidenboter en mayonaise
DESSERT BUFFET € 6,75 p.p.
Laat je verrassen en maak een keuze uit diverse mini desserts, vers fruit en gebak
Bovenstaande arrangementen zijn te boeken vanaf 25 personen en uiteraard aan te passen bij eventuele diëten, allergieën of vegetarische wensen.
In overleg maken wij graag een buffet arrangement op maat, volledig afgestemd naar eigen wensen en budget.
Voor meer informatie of het boeken van een arrangement graag contact opnemen via +31 (0) 111 671480 keuzenummer 2 of Dit e-mailadres wordt beveiligd tegen spambots. JavaScript dient ingeschakeld te zijn om het te bekijken..